How to make career in HR?
If you are wondering how to make your career in HR, this article is for you!
So, read on:
Making the career in a Human resource is the great opportunity for youngsters. Today HR professionals are increasing due to their increasing importance in the organization. It is a fast-growing career path and brought lucrative job opportunities.
The number of jobs in HR will increase in the near future.
But, the question is: How can you make a good career in HR?
In this article, we are going to share the information about the career in HR. If you plan your career from the start then you are definitely going to meet your career goal. Your qualification, education, internship, training, etc helps  to prepare you for a bright future career in HR.
Making an outstanding career in HR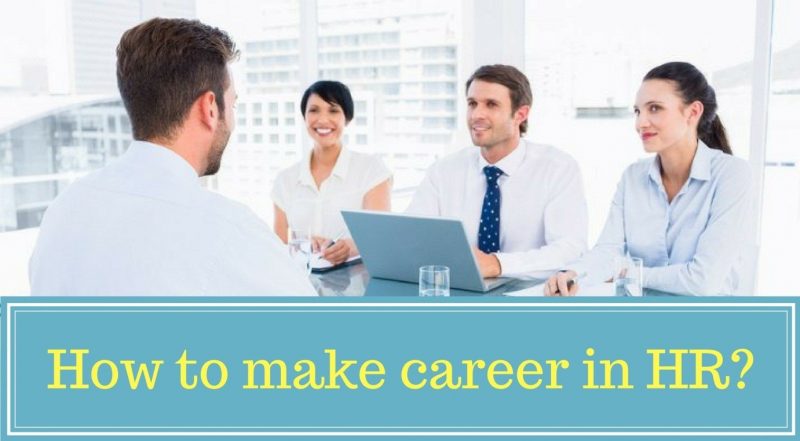 Understanding of Human Resources
Human resource is an important department of the organization. It deals with human resources function like hiring the employees, induction and training, compensation and benefits, grievance etc.
All of these tasks are handled by the Department of Human resources. The small size company has one or two HR and big size company has HR department with many HR professionals. They help an organization to increase the productively.
They continuously work on the policies of the company to generate high revenue with good resources at minimum expense! From time to time, HR personnel conduct training and development programmes to improve the employee's skills and enhance the productivity.
As discussed in the small firm there is only one HR manager who handles all the HR work. In the large firm, there is a director of Human Resources who controls and supervises the HR department.
The HR department has multiple subheads like hiring and selection, compensation and benefits, induction and training, labour relations and many.
Knowledge about different HR profile
You need to learn about the various HR fields. You should know which HR field is suitable as per your interest and as per the growth.
There are multiple HR profiles like HR Generalist, Compensation Professional, HR manager, Labour relation manager, HR consultant, Staffing and Recruitment Manager, development professional and talent manager.
There can be more job profile depending on the size of the firm.
HR is a wide term. Making the career in it a great job. There are many degrees associated with HR. It is your choice to decide which degree is suitable and give you optimum benefits.
After completing 10+2, you can apply for bachelor programs like Bachelor Degree in HR, Bachelor Degree in business administration and Bachelor Degree in Public Administration.
Further, you have the Associate degree of HR, Master of business administration HR and the doctorate degree in HR.
Find below the Four level of degrees
#1.  Bachelor Degree in HR – you have the endless opportunity in HR by pursuing the bachelor degree in HR. The degree program covers the overview of the HR principles, practices, working, training, and development.
It gives insight knowledge of HR issues, theories, employee training methods, employee assessment policies etc. It provides some business knowledge of accounting, Information technology, and marketing.
#2.  Associate Degree in HR – After graduation candidate from any background can pursue the associate degree program in HR.
The program covers the practical knowledge of policies and computer application in the desire HR field. For entry-level job in the organization, you need to have graduation and the associate degree in HR.
#3  Master Degree – MBA is the best degree for applying for the Managerial job in HR. It supports in getting a high package, chances of promotion, etc.
It is a two-year program. Then you also have the choice for Accelerated MBA which is for one year or Distance learning MBA in HR which is for the flexible period of time.
#4  Doctorate Degree in HR – this degree is for those candidates who want to do research in HRM. It is a five-year course which includes the internship, teaching assistants and dissertation. It is a deep study of HR topics. The degree is best suitable for the teaching profession in HR.
Certification and Training courses
Apart from HR degree, many companies are providing certification and training in HR.  The course is for both professionals and non-professionals. The period, of course, is for short span of time as compared to the degree course. You can find best HR training institute in Delhi.
If you do not have HR experience, the internship is always the best thing to do before joining a company. Many colleges and institute include internship along with the degree courses.
The chances of hiring are good if you go for internship along with education. In the internship, you get the real-time exposure of the HR firm and the work of the HR.
Generally, the firm hires you in future if you have done internship from there. You got to learn the behaviour skills, communication skills, and working skill.
Here is another question you may likely ask:
How you can find out Job in HR?
If you have any HR degree then colleges themselves get you placement in a good company. A qualified candidate gets placement in HR very easily.
You should have the ability to LEARN about employee development, organization development, and employee relations etc.
If you are able to learn easily about the HR profile work then there is a chance of promotion. So, try to do the entire task efficiently and effectively. Your expertise in HR will make you excel in future.
The earning in HR varies with the position of the job. Initially, you might not get a good package as you are a fresher.
However, if you have done some certification and training in the HR you might get the good salary package. If you are working with reputed companies then you are definitely going to get handsome salary.
The people from different backgrounds are working with the HR Company and they are happy and satisfied with the type of job and working environment.
Making the career in HR is always the safest option for the bright career. With HR, you can achieve all goals of life and career.
Author Bio
Talent Magnifier is the leading and most preferred institute of HR training. It maintains the world-class standard for their students. In Talent Magnifier, professional and non-professionals comes to take the training.

Latest posts by Guest Author
(see all)